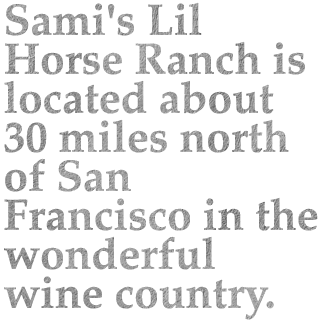 We are a family farm that has bred, shown and sold Miniature horses since 1978 to all parts of the United States as well as many other countries of the world.
In 1984 our family took our wonderful little stallion Shadow Oaks Top Banana" to the AMHA Nationals where he was named the AMHA National Grand Champion Senior Stallion.
We have produced not only halter champions but driving champions as well. Possibly more driving champions have begun at Sami's Lil Horse Ranch than any other miniature horse ranch. Our horses are bred to win for both halter and performance. We continue to carefully compliment this bloodline with some of the breeds' finest individuals.
Our Philosophy
Quality is our utmost concern. Dr. Ron Scheuring D.V.M. is committed that his ranch maintain not only a healthy atmosphere but secures his program for all aspects of ranch management to the highest level of excellence.